A bit about Fool Court Press, LLC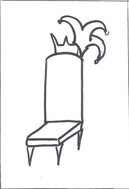 In 2011, NC Weil caved in to the DIY impulse.
After years of workshopping, rewriting, critiques and more rewriting,
Karmafornia
cried, "Let me out of here! I'm tired of living on your hard drive unappreciated. My readers are out there - I want to go find them."
Thus, Fool Court Press was born. Why that name? Being an April Fool of long standing, Weil concluded that only foolishness could fully explain this impulse. Furthermore, Weil has been active in the "other WNBA" (Women's National Book Association) for many years - but to the punsters in her circle, it seemed obvious she was driving for the basket.
Karmafornia is not alone - now we offer Superball, the sequel.
Fool Court Press has also published Watcher in Black and Other Poems by Stanley Boucher
.
Please visit our Shop page to
read an excerpt and to order your copy.
---
Bookseller?

Ask us about resale volume discounts! info@foolcourtpress.net