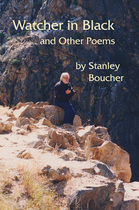 Hours later
(But not yet even noon!)
We all arose
And bore his prone biomass
Of dead flesh
Down the hill
Fingers, our fingers, still living
Because resting from the hours' strain
Of clamping that nose,
Pressing open those teeth
For the breath we had hoped to breathe
Back into his noisy (airy-noisy) dead chest - - -
(excerpted from "Something has Happened to Rudi...", p. 36, Watcher in Black and Other Poems by Stanley Boucher)



---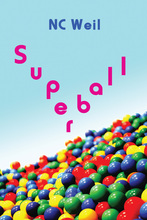 ​Here's how to get your copy of ​Superball: for a print version, order on Amazon.

For an e-version compatible with most e-readers, visit Smashwords: click here
---
from
Indie Reader
's Review of
SUPERBALL
"
SUPERBALL
is the reader on [Walt and Anna's] roller-coaster ride, with the 1970s rushing by out the corner of your eye. Along the way you get subtexts involving the hippy house's harassment by narcs, a peyote trip in the desert, a valuable review of 70s musical gems and a remembrance of life before smart phones and personal computers, when rock-and-roll was a religion with many followers." from Stephen Siciliano's review of July 2017 (read full review
here
)
Superball excerpts:
Sun slanting in through the pines warmed the rock, locusts shrilled and buzzed in the grass. It felt good to be back here - why should he let a ghost drive him off? If Laura was coming, if she found him, so be it. Boulder would shield him.

..Anna said, "i invent words."
"Such as --?" Walt said.
"Well, my favorite's 'intimition.' "
"What's that mean?"
"Intuition about time - not clock-watching - sensing when to do something or go somewhere, and arriving at just the right moment."
"Do you have that?"
"Yeah. Last Sunday afternoon all the Perfectly Clean crews had to meet to trade equipment and vehicles, and we converged simultaneously from four different jobs. You can't plan that - or if you do, it doesn't work. It was perfect timing."
"Timing's everything, " Barbara agreed. "That's a great word, intimition."

"Walt," [Anna] said, noting the absence of a shower curtain, "would you not look at me while I'm in the bath?'
"All right." .. He turned away, but he hadn't figured she'd take so long, easing her way slowly into hot water, dipping then removing each hand and foot, working them deeper and leaving them in longer. While she acclimated, he stared at his bathrobe hanging on the door, thinking of Laura wearing it when they'd lived together. A surge of pain unbalanced him. He leaned on the wall and closed his eyes.
"I'm in now," she said. "You OK?"
"I pretend I am - isn't that what you do?"
"Yeah," echoing the loneliness in his voice. Then she said briskly, "Time for the Mobius strip."
Sitting on the floor with his back against the tub, all he could see was the top of her head. Pen ready, he held the paper loop. 'What do I do?"
"Trace a line down the middle, all the way around."
He fed the strip beneath the pen. "OK, I'm back where I started."
"Look at it."
The line was on both sides. He saw the half twist and understood why it worked but -- "That's amazing."
"Isn't it? I think you and I are like a Mobius strip - the different sides we think we're on are actually the same place."
The clouds around his heard shifted to allow light through. Clear love. Not that tangle of need and karma with Laura, just love, by itself.


Order your Karmafornia e-book version today at Smashwords

Karmafornia excerpts


"Their love strobed, bodies alternately furnace and freezer, threaded through with ecstasy that trickled along their nerves like ice melting, metal liquefying, frost forming. The air in his lungs was partly her exhalation and therefore partly her, seeping into him the way cold crept into the car. They were one substance – was separation possible? This Walt Sanders identity was a single chip in a great mosaic, their multiple lifetimes creating the complete image. He'd seen enough fragments – he longed to break out of this skin for a glimpse of the whole.
"Being part of everything isn't imprisonment," she said, knowing his thoughts.
"This existence is a limit – I want the history of my soul to flow through me and take me along."
"There's as much infinity between zero and one, as between zero and infinity," she observed. "Whatever your soul knows, is here. Every wail of birth and ash of scattering is in you now." Fingers light on his temples, rubbing little circles, she said, "You're thinking so furiously your head's all tense – let go."
Under his skin he followed her touch, each muscle going fluid with joy, every cell smiling as thoughts bounced telepathically, faces stretched so far it seemed their lips would split. Laura started the Grateful Dead's American Beauty in the tape player; voices and guitars circling like a net gathered them up to be reborn in light, the whiteness of this snowbound car. Intricacies of frost had decorated their drawings on the windshield, acid's brilliant blues and pinks edging the crystalline feathers. Music rose in spirals visible as their breath, teasing every receptor to shrug off habits of perception – the world was incomprehensibly rich, and now they were awake to drink it in."

"The pull Cob had exerted on her before was still there – this broken leg was the first salvo in a war he didn't want. He should leave – not just this room but California, their history. Karma, Cob said – Walt had barely given it a thought before coming out here but Karmafornia was where he'd landed. Berkeley, Cob, the van driver on Highway 17, even Laura were on the same wavelength: hurry up, push, go, trample. What was he doing here? He couldn't see his peaceable nature prevailing. Karma supposedly provided opportunities to fix past mistakes, to evolve, but Cob had already destroyed him twice – what was going to be different this time around?"

"The whole drive home Walt thought about death - the loss of so many lives was more horrific in contrast to the beauty of sun on the waves, surf seething among the rocks - if Jim Jones and Dan White could have left the constricted world of their own heads to witness this day, maybe their homicidal urges would have shrunk to something momentary, forgettable. How could a man believe he was connected only to what he approved of, understood, controlled? Everything was connected - there could be no picking and choosing. To perceive Earth as a vast ball, its moon pulling the oceans into tidal sloshing as both circled the life-giving sun, was to watch one's self-importance vanish into the cosmic dance."

"At the big stainless-steel espresso machine a lean black man moved fluidly to knock out wafers of expended grounds, press in new, crank them onto the machine, flip switches and turn dials, blasts of steam rising around him, a Hephaestos of coffee at his forge. He wore a Soviet Army officer's cap over a short natural, his face a blue-black folded terrain of muscle and bone - he could be thirty or fifty, Laura couldn't tell.
She was next and his eyes drilled her, recognizing her first visit - like a lot of people in Berkeley he didn't meet her gaze so much as confront it. As Cob ordered espressos she put on her don't-mess-with-me face but the barista saw her uncertainty beneath - her wish to fit in - and narrowing one eye as if he found that amusing while appreciating her looks, he turned back to his task. His work was unhurried but a steady flow of drinks went up on the counter, his gravelly voice sing-songing the orders - "dub shot, cap, two spress". His glance flicked some signal of male collaboration Cob's direction - he must've seen him here with other women.
Cob with their cups nudged past empty chairs, squeezing over to a spot by the windows, shifting the ashtray to an adjacent table. "Not very crowded today – I've been in here when there wasn't a vacant seat."
"Doesn't seem like a student hangout."
"Not undergrads – no room to study, no food. Somebody's always asking the owner to sell snacks, but then he'd have to worry about the Health Department."
"And clean the floor?" she laughed.
"Not likely. He has all the business he needs – why change anything?"
"So, what were you saying about power?" she reminded him.
He closed his eyes, holding his drink just beneath his nostrils, inhaling long and slow like a professor ready to begin a lecture. The self-importance he projected would make Walt bolt for the exit, but she'd chosen Berkeley imagining this – discourse, insight, an intellectual atmosphere. Just for a moment she experienced vertigo – for a kid from Carling this place was mythic: former university president S.I. Hayakawa, SDS leader Mario Savio, the great anthropologists Kroeber and Kluckhohn had all made their reputations here. Desire to win renown on that scale focused her restless mind. This bitter espresso seemed the very essence of challenge and discovery – already her palate was learning not to crave sugar to counteract its bite."


---
Booksellers? Questions?



Booksellers, we offer volume discounts. Learn more at info@foolcourtpress.net
General questions? Ask us at info@foolcourtpress.net


Fool Court Press, LLC is located in Denver Colorado
Correspondence can be directed to:
Fool Court Press, LLC
PO Box 18385
Denver CO 80218
301-785-2457

* Booksellers purchasing multiple copies are eligible for book returns, providing that all copies returned to Fool Court Press are in the same condition they were purchased. Approval must be obtained from Fool Court Press before books may be returned. Damaged returns may not be credited.