Superball

is here!

Visit the

Shop

tab to read excerpts and order your print copy or e-version.

This sequel to

Karmafornia

finds Walt circling back to Boulder, where he and Laura met and fell in love before their misbegotten

journey west. After two nomadic years ducking his past – and himself – he's ready to settle, and soon meets Anna, a local whose offbeat humor and self-doubt echo his own. They become a "coalition of the spineless" in the face of Laura's imminent return – but do they have enough bounce?

​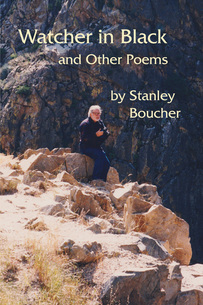 Watcher in Black
culls from the lifetime work of
Stanley Boucher
: mountaineer and rock climbing pioneer, Korean War veteran, mental health service worker, wry observer of the human condition.
Jack Collom, winner of the 2012 Colorado Book Award for Poetry, makes these observations about Boucher's work:
"You cannot find more spirited verse. Stan jokes and exaggerates, but the reader always feels the love and compassion. He compares marriage to a bullboat, that multidirectional life vehicle, and justice to a melon. He compares a prosecutor's brain to entrap'd vapors in galaxies, himself to a sack of grain.
"At the same time, Stan has always been a listener, a person of great care and feel for people. READ HIM!"
(from the Foreword, p. vii,
Watcher in Black and Other Poems
)
Jello Biafra has this to say:
"Meet Stan Boucher -- lifelong poet, raconteur, visionary bringing humanism to social work and mental health -- and pioneer in climbing cliffs and peaks. He was also my father."
To order your copy, visit
http://www.amazon.com/Watcher-Black-Other-Stanley-Boucher/dp/0983489327
---
Get your copy of Karmafornia!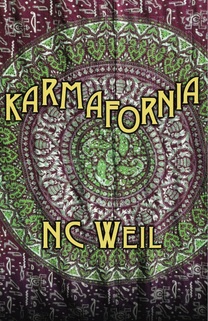 NC Weil's novel Karmafornia has been released - buy your print format copy under the Shop tab link. The e-book has been released by Smashwords.
Set against the turmoil of late 70's Bay Area California, KARMAFORNIA spins the latest incarnation of a love triangle. When ambitious Laura, new to grad school and Berkeley, and her go-with-the-flow boyfriend Walt, meet bright arrogant fruitarian Cob at a party, she strikes sparks with him while Walt sees trouble coming. Their struggles with history and desire play out against the backdrop of Proposition 13, the Jonestown tragedy, the SF City Hall murders of Mayor Moscone and Harvey Milk, the rise of "new wave" punk rock, and the Twinkie defense. The suicide of Cob's opposite number, a free-spirited nomad, catalyzes this trio to act on what's best in themselves. Even so, intention meets karma and loses – again.
Laura's eventual choice between the men she loves, compromised by her desire to hold on to both, brings this novel to its stunning conclusion. Hitch a ride with these characters, and come away glad you've met.
On the Shop page read excerpts, and order your copy.
FOUR-STAR REVIEW FROM INDIE READER
:
IR Verdict: KARMAFORNIA is a merciless but loving look back at 1970s political and social culture; a deep and thoughtful look at human efforts to achieve real emotional freedom, and escape the bonds of karma that shape, but also imprison us.
Book Reviews
,
eBooks
,
Fiction
,
Inspirational
,
IR Approved
• Nov 07, 2013
KARMAFORNIA is the story of a love triangle, set in Berkeley in the late 1970s, with the beautiful graduate student Laura Reiner at its apex. The two men vying for her attentions are the loving, faithful, and attentive Walt and the mysterious, egotistical but introspective Cob. This being Berkeley in the 1970s, the characters spend a reasonable amount of time stoned, and during an acid vision early in the story, Laura and Walt remember past lives that do not bode well for their current relationship, past lives in which Cob also figures.
The story is an exploration of freedom and commitment, love and jealousy, openness and secrets. Walt, Cob and Laura are complex characters, each with their own appeal, each deeper than they might appear at first glance (particularly Walt). The writing is lyrical, almost poetic in places, and the author uses symbolism deftly to add color and depth. The book is not a pleasant one, particularly – none of the characters spend much time happy, and there are a number of seriously disturbing incidents (including suicides) – but it is a thought-provoking story, with a wry and darkly humorous view of human nature and relationships. Historical events, like the murder of Harvey Milk, are woven into the story seamlessly, giving substantial context for the book's emotional tone. It is appropriate that the initial vision that sets the tone for the rest of the book takes place in ancient Greece, as the book itself is a Greek tragedy, in which the characters' own fatal flaws – and the fatal flaws of their time, place and culture – trip them up in the end.
At times, the reader may be frustrated by apparently inexplicable emotional behavior on the part of the three protagonists – it seems as though every moment of happiness must be followed by everyone rethinking everything in order to maintain the proper level of stress and tension. The characters are prone to navel-gazing, and the story can feel a bit self-obsessed at times as a result. This is quite likely an intended effect rather than a flaw, as self-obsession is a major theme of the story.
- See more at:
http://indiereader.com/2013/11/karmafornia/#sthash.6yqbYgd8.dpuf
What Publishers Weekly has to say:
"In 1978, two young lovers leave Boulder, Colo., and head to Berkeley, Calif., where they struggle with life's messy problems and intrusions in this capable, well-developed look back at an edgy, bygone time. Arriving at the University of California, Berkeley, Laura
–
with free-spirited boyfriend Walt in tow
–
begins graduate studies in biology. It isn't long before she meets fellow student Cob, an irresistible fruitarian from Nebraska with whom Laura eventually has a passionate affair replete with unbelievable orgasms. But the relationship with Cob
–
and the sex
–
lacks love, and Walt is summoned to the rescue. This love triangle plays out against the background of the political and social upheaval of the time, with Weil referencing everything from the controversial Proposition 13
–
which rolled back property taxes
–
to the mass suicide by cult members of Jim Jones's People's Temple in Jonestown, Guyana. Weil ably captures the period, while convincingly delineating her characters."
Publishers Weekly
, Oct 17, 2011, p. 41.
And more reviews:
"If you want to reminisce about Berkeley during the period of the Jonestown massacres, the shooting of Harvey Milk, the Dead Kennedys and "Box of Rain" with a hefty dose of drugs and sex, or if you just want a good read about that period, the tightly written and thought-provoking
Karmafornia
will engross you... The love and sex triangle... sets the theme for this rip-roaring book [and] culminates in a surprise ending."
Lorine K. Pergament, Winner, 2008 F. Scott Fitzgerald Short Story Contest
"Groovy... Lyrical."
Aaron Ritchey, The Never Prayer, Crescent Moon Press
"KARMAFORNIA is brilliant, edgy literary fiction that stuns, informs, titillates, awes, disturbs, enlightens, stuns (yes, I repeat that word—because of its stunning conclusion). Weil's writing is amazing
--
crisp, witty, deep!
The characters' points of view change almost seamlessly. The story is fast moving, well paced; the snappy dialogue filled with astute observations about life.
Though knowing KARMAFORNIA was a story about a love triangle, I had not expected it to be so graphic with characters tripping on drugs and sex. Yet I soon realized that it had to be this way in order for Weil to show (and enable the reader to feel) the complexities of the characters (mainly of Walt, Laura, and Cob but others as well), their relationships and the impact of their choices
.
In spite of the number of characters, they all connect, and it works, even though sometimes I found it difficult to like some of them.
Weil balances the heavy descriptions with lighter ones such as: "The faintest breeze carried the green smell of water up the bank; light of the high half moon between the sycamores spread across the wrinkling surface of the Feather River."
She is a master of metaphors and symbolism
--
flying, wings, butterflies and other devices are ingenious.
By late in the story, it's clear to the reader, even before one of the characters says or thinks it, free love is not free.
And at the haunting end of the book, while in awe of Weil's enormous talent, I felt sad and disillusioned.
Perhaps that is Weil's point, that given all that happens in the 271 pages, there can be no happy ending."
Carla Danziger
, author of
Hidden Falls,
a mystery/romance novel set in Norway
---
Are you a Bookseller?

Ask us about reseller discounts at info@foolcourtpress.net